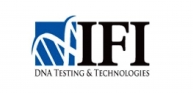 DNA Paternity Testing
We treat EVERY case with the utmost respect, confidentiality and sensitivity. Our expert staff will walk you through every step of the way with our free phone consultations. We understand that you have many questions and we're always here to answer them.
Whether you just want peace of mind or you need legal "proof", IFI can satisfy your needs. We can handle almost any situation and we will always try to accommodate you. Our services are offered nationwide and internationally. If you prefer the comforts of your own home, you may also have the option of having a mobile collector paying you a visit at no additional charge. We also provide private At-Home test kits for you to conveniently and discreetly use in your own home.